Posted on May 2nd, 2017 by Patrick Sands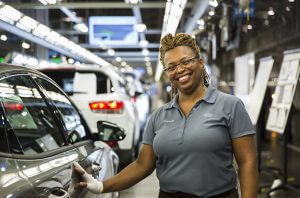 (West Point, GA.) May 2, 2017 – On Monday, Kia Motors Manufacturing Georgia, Inc. (KMMG) celebrated production of the plant's one millionth Sorento CUV at its West Point facility.
Representing an investment of more than $1.1 billion, KMMG launched production of the Sorento on Nov. 16, 2009. It was joined by the Kia Optima mid-size sedan in 2011. Together with on-site and local suppliers, KMMG is responsible for the creation of more than 15,000 jobs in West Point and the surrounding region. To date, KMMG has produced almost 2.4 million vehicles.
"The Sorento is a special product to our KMMG team as it was the first vehicle assembled at our Georgia plant," said KMMG CEO Harrison Shin. "Our team is committed to building the best vehicles in the world right here in West Point, Georgia and we dedicate ourselves to world-class quality each day. I want to congratulate our team on another remarkable milestone."
Monday's honorary vehicle is a snow white pearl 2018 Sorento SXL and will be on display in the coming weeks at Atlanta's Hartsfield-Jackson International Airport.
Caption (Kia2): KMMG team members work each day to produce world-class quality products. Just recently, the one millionth Sorento rolled off KMMG's assembly line in West Point, Ga.
About KMMG
Kia Motors Manufacturing Georgia, Inc. (KMMG) is the first manufacturing site in North America for Kia Motors Corporation based in Seoul, Korea. With an annual capacity of 360,000 units, KMMG is located on 2,200 acres in West Point, Georgia, and began mass production on Nov. 16, 2009. KMMG is home to the Sorento CUV and the Optima mid-size sedan, two of the brand's top selling models in the U.S.